OK, I have already admitted in blog posts past, I am a food snob. Even if I had not spent years being one of the Southern California Restaurant Writer's Association critics, I would still be a food snob.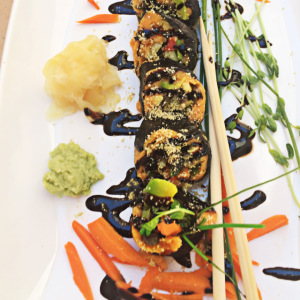 I like adventuresome eating. I like chef creations that take time, talent and fresh ingredients.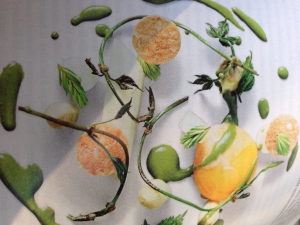 So these are not what chain food is likely to have. Really, no self-respecting food critic would even consider reviewing a chain store.
But, every so often, the gourmet in me just wants some comfort food–done the old-fashioned way. Diner food. And, when, recently, hubby and I were in the mood for pancakes, we said to ourselves: Denny's.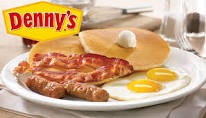 We were pleasantly surprised by more than the comfort food quality. So, the pumpkin pancakes were made from a mix–I suspect with refined sugar, white flour, and very little to do with actual pumpkin. But, once-in-awhile, it's OK to have a little sugar and even some white flour. Denny's delivered an excellent comfort meal of pumpkin pancakes, with two eggs, bacon, and hash browns. We enjoyed it. I didn't gain any weight eating this meal. And, the price, at $6.99 was very friendly.
But, the best part of this Enfield Denny's experience was our waiter, Walter, and the Manager Edgar Ayala, who stopped by our table to make sure we were doing well, and that there had been no issues.
When I told him that after five years in Enfield, this was our first Denny's visit, and that as a food snob, I would not have put Denny's on my radar, but that after this experience, we would be back, he smiled.
There is nothing wrong with this Denny's. On my second visit, I tried a skillet breakfast of Yukon gold potatoes, grape tomat

oes, mushrooms, onions, spinach, sausage and fried eggs.
This was really excellent. And, my request to have as little oil as possible (I imagined the gallon of partially hydrogenated oil used at our Marriott that put 30 pounds on me in the 17 months we lived there), was cheerfully granted.
Edgar, thank you. Walter, thank you. And, kudos to the line cooks who do seem to put together a meal even a food snob can enjoy.
When Walter delivered our bill to our table, he said, "Hope to see you next Sunday night." He remembered us, remembered even the day of the week we had been there, and he was genuine in his invitation. This is not what one expects at Denny's. And, maybe not all of the stores do this. But at Edgar's place, they do, and we appreciate it. Service this good deserves to be applauded.