When we first found the little foreclosure house, which we now call the River House, I returned that evening to our apartment and couldn't get the little house out of my mind.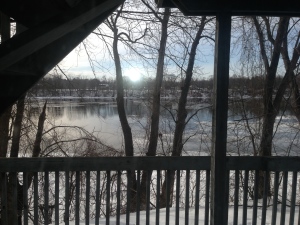 I didn't sleep much that night. I kept imagining that back deck overlooking the river, and could see myself holding my coffee mug in the morning, and gazing at the Connecticut River.
That was a year ago this month. I can tell you my visions of gazing at the river while contentedly sipping coffee have yet to happen, and the reality of what is involved in getting to that mind-vision has set in, hard.
I suppose I could figure out a way to ignore all of the work still awaiting us, ignore that we don't have flooring yet, ignore that the heat isn't complete enough to reach the area which will someday be the master bedroom, so the inside of the whole first floor is…brrr…cccold. And, really, the deck is still cluttered with construction stuff, and, though the river is beautiful, the view is not as clear as it will someday be.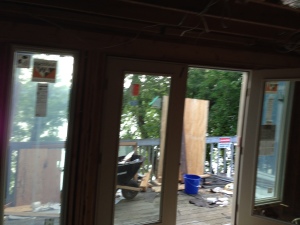 We have sat on our deck over the summer months with a work bucket and a cooler for a table and our lawn chairs. We have enjoyed Costco ready-made meals there, and sandwiches from Caronna's, our local market. We have sipped water and iced tea. But we have not arisen on a morning yet and sipped coffee.
So my imaginations of what this deck offers me will have to wait. Probably until spring, or even next summer. But it will happen.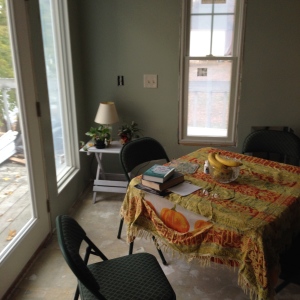 In the meantime, we have placed our little card table in our someday breakfast area, and we have one, very uncomfortable, bar stool for the island. We haven't populated our "living corner" yet–I cannot really call it a living room, since it is merely a corner of our kitchen, as is the breakfast nook.
But, having water flowing on the first floor–in the kitchen–and having lights and electricity, and a cooktop and oven, and a garbage disposal, and our water filtration system, and a microwave, and a side-by-side refrigerator, are no small accomplishments.  Yes, we still have to cover the island vent–after the re-mudding, taping and painting is finished. And, after the heat is all finished and the floor is in, and the "toe kicks" are installed, and we find all of our dishes, pots and pans, it will feel like a finished home.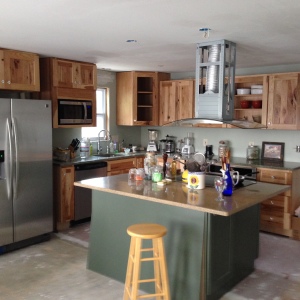 For now, since the whole room offers a beautiful view of our river, and since human beings are exceptionally adaptable, we are just fine waiting until next year for the luxury lifestyle of coffee sipping on our deck overlooking the Connecticut River.

   If you're close by, say next May or so, stop by. We can sip our brews together.