Okay, this isn't going to be a blame game. It isn't about marital
communication problems. And, it isn't about the difficulty in the matching up of word-brain and picture-brain. Yes, all of that is involved.
But, in the end, this is about a very talented and flexible man who wants above everything to please his woman (me).

Originally, I claimed, "I just want a powder room and a broom closet. Those are the only have-to-have's."
So picture brain got busy mentally laying out the powder room, and then came to tell the dilemma to word-brain.
"The problem is, if you want this to be to code, there has to be a continuous sewer pipe, and because this entryway is an addition, not attached to the house, we have to put the toilet in the middle. That is where the pipe is."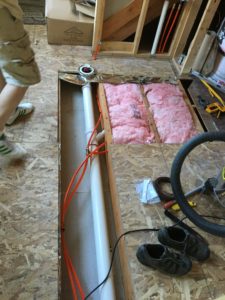 Orginially, word-brain pictured the powder room against the wall, close to where plumbing had been for a washer and dryer. Word-brain didn't know about code, sewer pipes being different for washers than for toilets, and other engineering dilemmas.
So by the time the plumbing had been installed, the toilet opening clearly in the middle of the floor, the electricity wired for a bathroom, and the framing for the dry-wall, it became much clearer to word-brain that this might have been a bad idea.
The CA critic-daughter had warned, "Mom, you don't want to to this. This is a bad idea." She inherited picture-brain's DNA on that, and has the uncanny ability to translate to word-brain, much more clearly than her father can. And, she is not afraid to critique without the diplomacy her father, evidently,   believes he must maintain.
But, mother did not listen. The work had come along to such a level that pulling it all out seemed cruel. Word-brain doesn't even like making navigational turns on road trips. She finds a way to keep going forward even when the route would have been better another way. No turning around, that is her motto,
So dry wall went up. It blocked 6 inches of the front door. It was the very  big box, light-blocking montrosity that was in this original house, which we all hated. And, along the way, a pantry had been added into the plan, which is nice, but he wasn't sure there was a closet. Have-to-have a broom closet.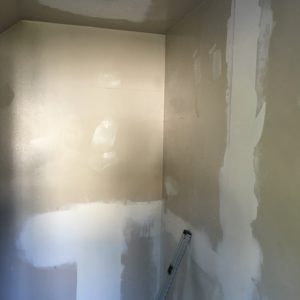 Word-brained texted the picture to CA critic-daughter.
"Pull it out, Mom."
"But Dad has worked so hard."
"So you are going to make another bad decision to add to your other bad decisions in this entryway?"
Word-brain posed the possibilities to picture-brain, who said, "Hey it can all be pulled out. Just say the word."
I told you he loves his woman. But he also knows I never turn around.
"Okay," I said, looking at the ugly, ugly big box blocking the front door. "Tear it out."
"What!!!" He didn't think I would do it.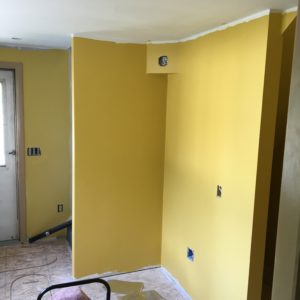 It came out. No powder room. Yes to the pantry. Yes to the broom closet. And, suddenly the idea of a beautiful entryway became a really nice idea.
"People will just have to use the upstairs bathroom," said I, because my main reason for a powder room is to avoid sharing my master bath.
So, now there will never be a powder room. We have dodged the problem of inspection since no new construction (other than shelving and two non-supporting walls) is happening.
And, this lent itself to a whole new concept of decor, which made CA critic-daughter very, very pleased.
It's going to be pretty. And. kudos to picture-brain for his loving labor and flexibility.  I am blessed.
Pictures of finished space next time.