After hubby got over the shock of me responding to his assurance that "if you don't like it, we can tear it out," and after he did, indeed, tear out the powder room he had spent three weeks constructing with plumbing, electric, and walls, I started to shift my mind from an extra bathroom to the prospect of really designing an entryway, and as a bonus, getting a huge pantry.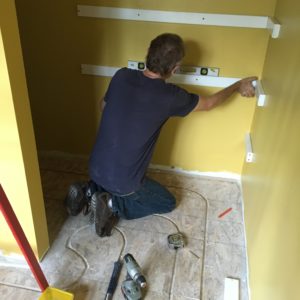 This was fast becoming a bonus instead of a sacrifice, and like so many of our reno mistakes, arguments, decisions and new ideas, it has become one of my favorite areas in the house.
I certainly have to credit my patient, thoughtful husband, not to mention his amazing talent, creativity and evolving expertise. But, don't you just love to see a man on his knees. lol.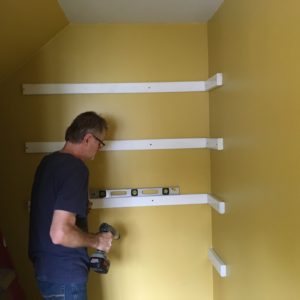 He is not a contractor. He worked with two friends who were, and learned a lot. But, as an engineer, his intellect and ingenuity never ceases to amaze me, his co-workers, our friends and even his bosses. He is an out-of-the-box thinker. Mostly he knows that, but it is so natural to him, I doubt he fully realizes how rare he is.
In any case, we decided on a slate floor, under which he lined the spaces with the radiant heating pec tubing. That, plus his hard work under the house insulating where no insulation had gone before in this add-on room. He cleared out rat nests, snakes and other critters who had made their home under our front entrance, and probably entered our home without our permission, since the only lining under the floor of this area was a thin layer of house siding. Now it has concrete boards, insulation and with the inside radiant will probably save us hundreds in electricity, annually.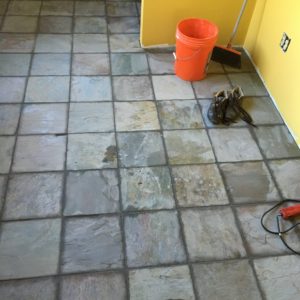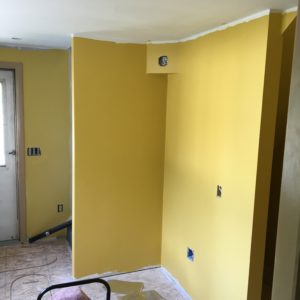 Two of the walls stayed, because we wanted a little alcove to paint sunny gold, brightening up the entry.
The lamps we had chosen for the powder room stayed, but with new golden globes which are much more entry than bath. And then there were other lighting decisions which became track lights for the pantry, and a very pretty shell lamp as the light into the kitchen.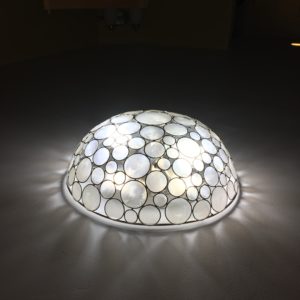 And, then there is that pantry. Wow! So much space–and of course there is never enough–so now I can move half of the baker's rack crowded items into the pantry, as in all of my small appliances. I can see what I own, for once–really for the first time since our move from Illinois in 2008. (See 100 days, 1000 boxes on my menu.)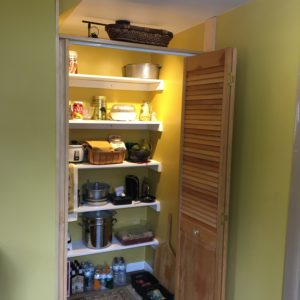 Oh, and I did get my must-have broom closet also.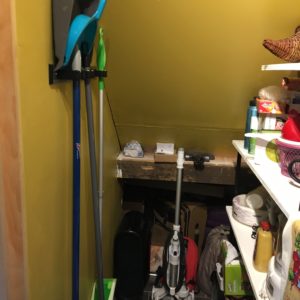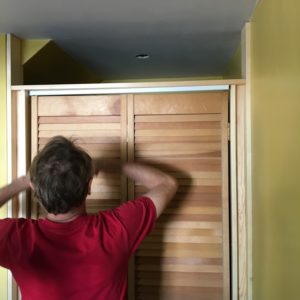 Being the king and queen of bi-fold doors, which we buy for $7 at the Habitat Restore Store, we used yet another bi-fold to hide the pantry area so that the entryway stays uncluttered.
I am so thankful for this home, my husband, my life on the river, God's goodness, and even our never-ending projects which give us so much joy as they are completed.