It's September and there will be no more Loft Life. In November 2009 we left Hotel Life, still chronicled on www.spinningstrawintogold.blogspot.com, and moved into our loft apartment at Bigelow Commons. We enjoyed our almost five years there immensely.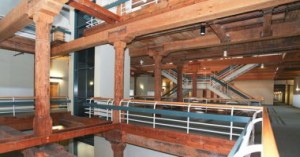 But, life moves on, and so have we. So now Spinning will be about Ramblings on the river–our little river house on the Connecticut River, where life in New England continues. We have gone from Hotel Life, to Loft Life, to River Life–with great adventures in all of these places, but, I hope, the best yet to come as we enjoy our beautiful view and the blessings of life on a river.
On one of our walks last fall, while living at Bigelow, I said I wanted to walk to see the river–which I knew to be about a mile up Pearl Street. My hub said, "Why don't we go down under the railroad bridge and see it at a different point!"
"There's no river there," I said in my true-to-ignorance confidence."
"Follow me," hub said, and I do and I did.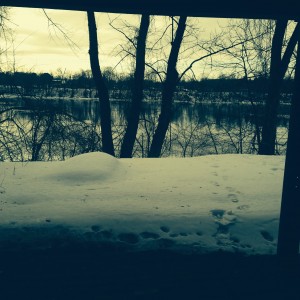 On our walk to the other river (really the same one, but a direction I never knew existed), we found Jay's river, and a whole lot more. We found a few houses, one of which had a large foreclosure sign on it.
We got curious. I went on Zillow, that trusty, but untrustworthy, site, and found out a little more about it.
Then I called the bank. The house was in litigation.
I followed up from time to time, praying that somehow it would come onto the market about the time our house in Illinois was going to sell. At the time, we had renters, wonderful renters, who we hoped would want to buy our Illinois home.
In February, they kindly gave us way advance notice that they would not be renewing their lease of five years. Sad.
They had bought a little foreclosure, and were going to be moving in June.
So we put the Illinois house on the market on March 1, 2014 and guess what? Of course. That is the exact time when our little Connecticut foreclosure hit the market.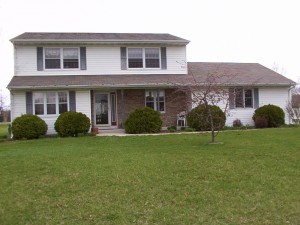 But, we pounced. We loved the view. There were many, many things we didn't know if we liked, but we loved the view.
Our house in Illinois didn't sell, and didn't sell, and didn't sell. We lowered the price and put in more and more upgrades, which made me more than a little concerned. We were bleeding money.
But we hired a Realtor, after realizing the Freddie Mac Realtor would NOT BE A GOOD IDEA for us to use. Boy am I glad I got that little tip. Thank you Kathleen!!
After winning the bidding war, our offer on the River House was accepted. We set closing for May 1. The Freddie Mac Realtor, who was not a very nice person, managed to create drama where there was no drama–things like ignoring attachments on emails and claiming she had never received them. She yelled at people, threatened people, and generally reacted to everything as though she were some sort of victim, while in reality, she was creating her own messes and making life for the rest of us very, very stressful.
But in the end, two weeks later, we did close on the house, with "as is" strongly emphasized.  But we now had three house payments, all with utilities, maintenance and other expenses attached.
We were bleeding money. Did I already say that?
I cashed in my retirement and we prepared for what my hub said would be an adventure. Oh how right he was. Maybe not the adventure he had imagined. He tends to imagine things going smoothly. They never do.
We were held up another two weeks starting work on the house, because we had to move all of his stuff out of a kind friend's garage. That took time, and energy. And at the front end of our house project, we didn't really comprehend what a month's delay would cost us later.
Then we had to apply for a building permit. That took another two weeks. Luckily that two weeks perfectly coincided with  a business trip to California. So even though the delay was still costing dearly in time, at least we were in sunny California.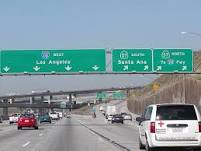 Now we are into September. We moved out of our apartment August 31. We have now been living in the River House, upstairs where there is running water (barely running and cold only), electricity, and a working toilet. I thank God every day for this.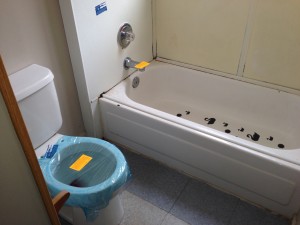 I also thank God that late August, we finally got an offer on our Illinois house. God is good.
But work on the first floor of the River House,  where we eventually intend to live is very, very slow.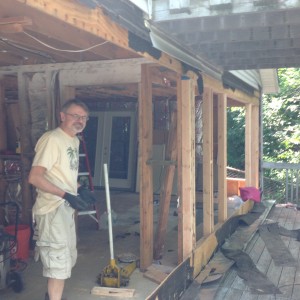 I will explain.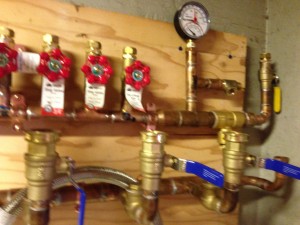 …to be continued.